We are excited to announce the creation of our newly formed sustainability company, Zachry Sustainability Solutions, LLC, a Zachry Group company, focused on supporting our customers as they pursue their most critical energy transition projects.
Learn more in our press release.
Zachry has helped its customers for nearly 100 years meet challenges and recognize opportunities in a wide array of market conditions. Our work commonly includes capacity additions, plant modernizations, environmental upgrades, and other technology enhancements for new and existing critical manufacturing and generation assets. Today, we are engaging in important work to help many of our customers navigate the energy transition toward decarbonization.
Our Zachry Sustainability Solutions business has four key focus areas:
Hydrogen
Carbon capture and sequestration
Renewable fuels and chemicals
Nuclear energy
Our engineering and project execution teams provide our customers with the insights they need to make informed decisions: What are the relevant technologies for the current opportunity or challenge? What potential solutions are most feasible, technically mature, and commercially viable? We enable our customers to make these decisions with greater certainty and predictability around cost, time to implement and ultimate asset performance, and we deliver turnkey solutions spanning the concept, feasibility, definition, and execution phases of these projects.
The journey with Zachry will be defined by your requirements and goals. We can engage early in the process with understanding the business objective, collaborating on concept development, maturing engineering design and successfully completing construction execution. We are a flexible, knowledgeable partner for technology acquisition, process engineering, power design and implementation. As always, safety and stewardship are at the front of each engagement and lead our actions on every task we plan and undertake.
REPRESENTATIVE PROJECTS
Hydrogen Production Processes – green, blue, gray, brown
Electrolysis – alkaline & PEM
Hydrogen liquefaction, storage and truck loading plants
Renewable fuels and chemicals
Renewable power-to-methane
Carbon Capture – amine scrubbing, membrane filtration, cryogenic separation
Energy storage proforma models and analysis
Compressed Air Energy Storage (CAES)
Liquid Air Energy Storage (LAES)
Methanation (CO2 to Methane)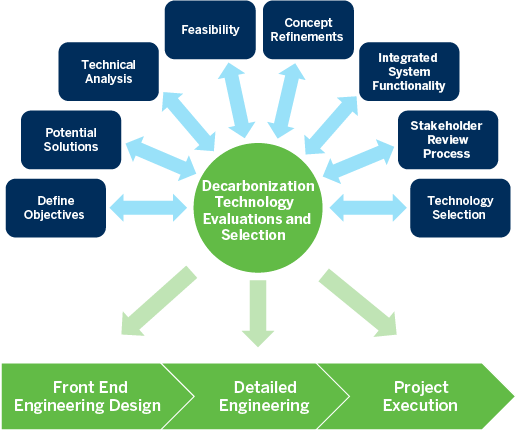 OUR CAPABILITIES INCLUDE:
Renewables from biomass
Biomass handling, storage and processing
Renewable diesel
Renewable chemicals
Ethanol
Sustainable aviation fuel
High-voltage power systems
Electrolysis
Pyrolysis
Photo-voltaic power systems
Syngas
Amine absorption
Ammonia systems
Hydrogen / gas treatment and purification
Hydrogen-ready gas turbines
Power generation and storage
Hydrogen production and processing
Hydrogen from steam methane reformers
Hydrogen / gas compression
Gas storage
Liquefaction
Cryogenic systems
Energy storage and scale
Pumped hydro
Repowering
Process Modularization